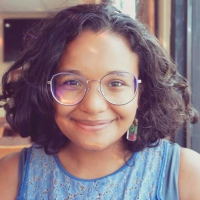 María Burgos Carradero is a recent graduate of the University of Puerto Rico, where she majored in Cellular Molecular Biology & Hispanic Studies. Her interests range from contemporary literary works of Afro-Caribbean poets and writers interested in imagining new worlds and inventing a self beyond colonial doctrines. She is pursuing graduate studies to explore the mapping of decolonial feminism further in Caribbean literature by black femme writers like Anjelamaría Dávila. Her favorite scholars include Audre Lorde, Octavia E. Butler, Ursula K. Le Guin, Angela Y. Davis, María Lugones, Chela Sandoval y Sylvia Wynther, and many others who have contribute in both the creative creation and methological mappings of decolonial feminist manifestations. Additionally, she is interested in becoming a Literature Professor and making the literary arts accessible through public libraries, both physical and online, and inclusive creative writing workshops. She hopes to provide a sense of ownership of the writing craft for anyone interested and gestate independent publication of literary works.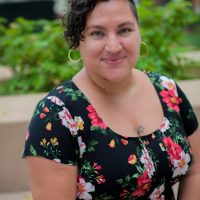 Sara Gonzales is a McNair Scholar and rising senior at Westminster College studying Death and Gender in Folklore, a custom major. Sara's McNair 2021 Summer research was a reinterpretation of the Gullah Geechee Boo Hag exploring the modern and positive reappropriation of boo hag lore by women of color today. Sara's academic goals include completing graduate work exploring BIPOC folklore as primary texts in Literary studies. Professionally, Sara hopes to become a professor of English, Literary, and Folkloric studies teaching diverse and underrepresented narratives. Her hobbies include reading and crocheting while snuggling with her dog.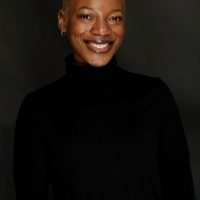 Briana Lackwood is a recent graduate from Brandeis University where she graduated Summa Cum Laude studying Linguistics and African & African-American Studies. She wrote a senior thesis entitled "Imagining Food Justice through A Literary Black Femme Hermeneutic" where she explored the existence of early theories of food justice in Ann Petry's 1946 novel The Street. Her thesis hoped to answer the question of how we can seek out the answers to questions of the quotidian in novels, particularly those written by Black women. By discovering the subtle conversations of food justice in The Street she found connections between food justice theorists discussions of the inequities in Black food systems that have long existed in Black communities. She hopes to continue this area of research as she pursues her PhD in her prospective field of study that encompasses Black Studies, Black Feminist Theory, and Food Studies. This will lead her on in her journey to becoming an educator and innovator in her field. She hopes to continue to be inspired by the work of Black women in the field of Food Justice and hopes to inspire others some day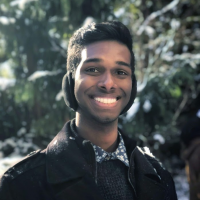 Nathan Omprasadham is a 4th year English and Philosophy major from Colombo, Sri Lanka, studying at Northwestern University. He is planning to pursue his PhD in English in order to study Sri Lankan Anglophone literature through the lens of the institution of the literary
prize. His goal is to demonstrate how the unique conditions of the Sri Lankan Anglosphere eschew common paradigms of postcolonial studies, opening new avenues for analysis and consideration of our commonly held notions of what constitutes postcoloniality and
the postcolonial novel. His interests surround South Asian postcolonial writing, the novel form, and the sociology of literature, particularly as it pertains to prize fiction. Nathan plans on becoming a professor so he can contribute to the shifting tides of
postcolonial scholarship while helping a new generation of scholars realize the power they have to shape the narratives of the world around them. He likes reading more than he does writing, and cooking more than eating.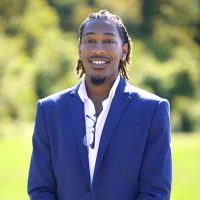 Deanthony Reed is currently an undergraduate senior at Tennessee State University. He will soon be graduating in August '22 with his bachelor's degree in English. His love for literature and writing began in high school, considering he attended a school by the name of East Literature Magnet High School, where summer readings and essays were required. Even in courses such as Biology, reading books like Michael Crichton's Jurassic Park and such were imposed. His academic interests include African American studies, including but not limited to, spirituality, sexuality, identity, feminism, social justice, and literature, along with early British Gothic literature. In his scholastic journey, he aims to incorporate his love for African American studies, to bring awareness, through research and personal experiences, of how society view race and racial disparities in America. Some of his hobbies include: photography, hiking, reading, traveling, and binge watching shows on Hulu & Netflix. He is passionate about serving his community, as well as others. Through his passion, he has been able to work with non-profit organizations to write grants for funding their programs.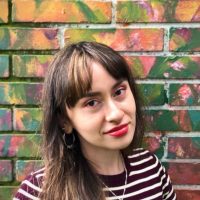 Laurisa Sastoque (she/her) is an undergraduate student at Northwestern University majoring in English and History. She is originally from Bogotá, Colombia, and came to the United States for her undergraduate degree. Throughout her college journal she has participated in a number of research projects that have solidified her interests in academic and scholarly research. She is currently a Leopold Fellow and works with Professor Sarah C. Maza on a research project regarding Les Miserables in the United States. Last summer, she completed a project titled "The American Perception of Colombian Immigrants: Drug-Related Stigmatization and its Development between 1979-90" which analyzes press discourses and its influence on the development of stereotypes in Colombia. She also works with Professor Wendy Wall on the Pulter Project, which aims to bring to live the poetry of 17th century poet Hester Pulter. Additionally, she aims to bring her interests and research into her creative writing projects. Her essay "Contracting Home; Anecotes and Aphorisms" won the Mary Kinzie Prize in Non-Fiction. In her future endeavors, she plans to continue researching immigration, anti-colonial thought, and feminism through interdisciplinary projects. She contemplates an MFA in Creative Writing and a PhD in a related field with her future plans.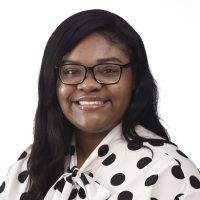 Precious Thompson is a senior English major and Pre Law minor at the historic Tougaloo College. She is from Magnolia, MS. She is a 2020 UNCF/Mellon Mays Undergraduate Fellow. Precious is also a member of the Gamma Omicron chapter of Alpha Kappa Alpha Sorority, Incorporated. She is involved in various organizations across campus including but not limited to: Pre-Law Society (where she serves as the Public Policy Committee Chair), Andrew Goodman Foundation Ambassador, and Pre-Alumni Council. Precious a college mentor for Arts Infusion, an enrichment program for students of color in the Jackson Public School District. Her future plans include attending a Ph.D program. She plans to teach literature collegiately while continuing her research on the experiences of black women in the carceral system. Precious is committed to serving her community and improving the lives of those around her.